Shahrukh, we need to talk. Again.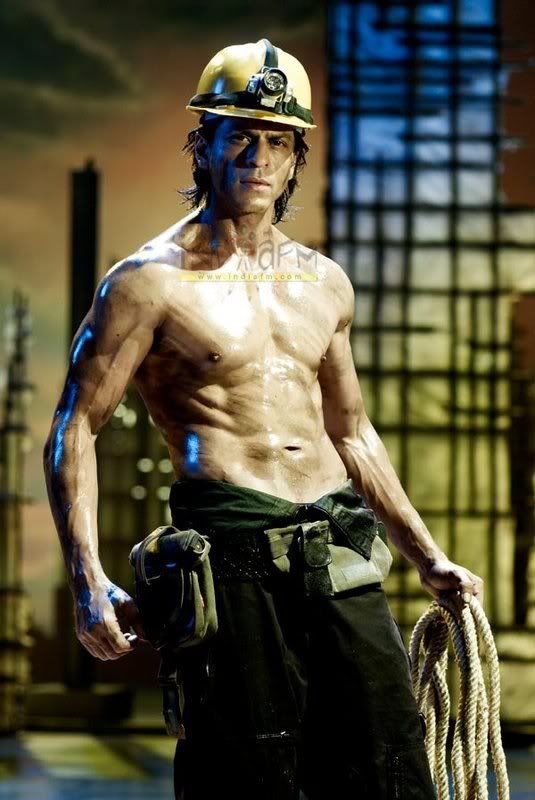 Ignoring the
India FM
insignia across your chest, there are a few problems. I'm going to ask this straight-up. Please put a shirt on.
I'm not going to lie, SRK, we've had nipple issues with you before. There's your penchant for wearing transparent shirts, a proclivity that is widely documented in the films of Karan Johar.
But this.
This is a problem.
I do have to admit that I like the construction worker motif. There are certain professions that are more attractive than others. Some are drawn to pilots and military men, because who doesn't love a guy in uniform? Others like artists and actors, who are more creative. Quite frankly, a construction worker is sexy because you know that he's got to be good with his hands. And I like the hair, too. In fact, I like everything that's going on above the neck and below the waist.
But.
Your man-nipples.
Shahrukh, let's not mince words. You're an attractive guy, but you're over forty. And I don't know what the heck you have done to yourself to make your arm-veins pop out like a blood donor's dream. To top it off, you are not oozing sex appeal, as may have been the goal in this photo shoot. You are just plain oozing. I do not know what you are oozing, but that is gross. And it is oozing all over your normally lovely man-nipples. (And we know they're lovely, because we've seen
Dil Se
).
I know you're catching a lot of flak for this (see Beth's earlier post), and I know it's all in the name of movie promotion, but Shahrukh, please - do us all a favor. Put those man-nipples away.